Scenes from the All Points North Railroad
Photo Potpourri

click on the thumbnails for larger photos
Bustling business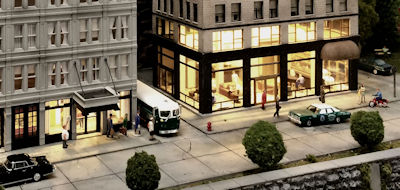 These sidewalks don't roll up at night! Downtown Roxburgh is rockin'. Judging from this scene showing the two competing hotels, the populace have places to go and things to do! And just what is it that the occupant in the 5th floor room window up to?

Gary constructed this scene, from pouring the streets and sidewalks, to building the hotels, to landscaping and super-detailing the scene, both outside and inside the buildings. You can't tell it from the photo, but if you were to peek inside the restaurant you would even see plates and napkins on the tables.

And did I mention that this photo is a prize winner? Literally! Gary got a check and his photo was included in the Walthers 2020 Model Railroad Reference Book.

Click on the thumbnail to see the full version of this prize winning photo.

And stop by APN and peek into the windows to view the other details inside those lobbies.

This is a job for...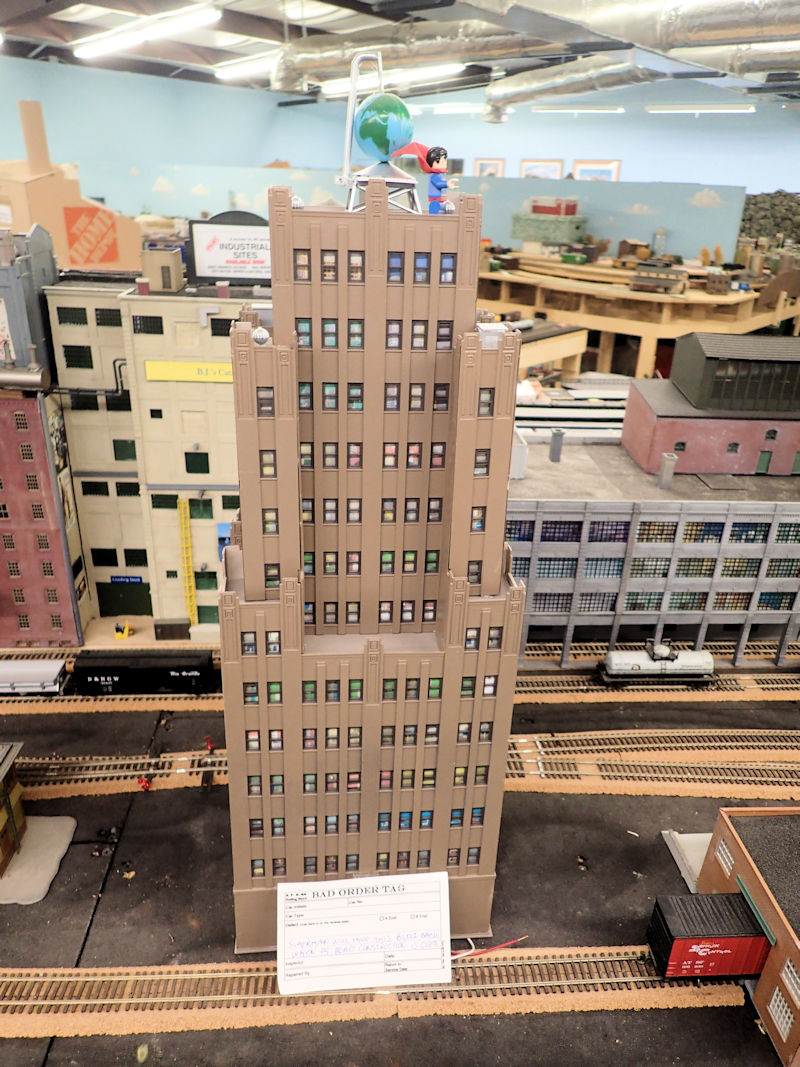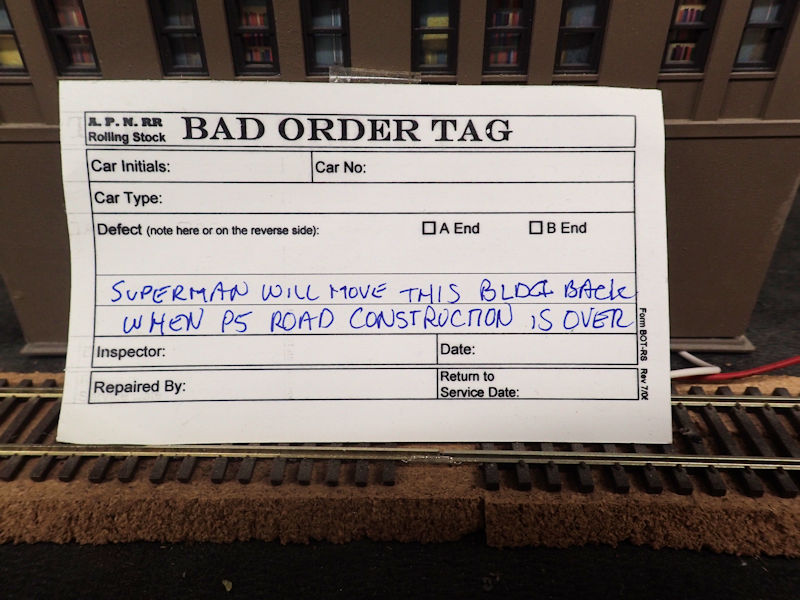 In constructing the town that will become the city of Metropolis, John had a problem. There was this tall landmark, a skyscraper that he had placed in the middle of his downtown, that was now in the way. When trying to add additional buildings and roads and bridges in his developing the town, he kept bumping into this signature building with his elbow. What to do? Create some elbow room? Create some elbow room! This is a job for Superman!

Not only able to leap tall buildings in a single bound, Superman is also able to make tall buildings leap in a single bound! As shown in the photo to the left, the skyscraper in question is now temporarily resting away from its original foundation and is sitting trackside in a nearby town.

Being this is a railroad club, and since the building is temporarily unavailable for human habitation, it is appropriately tagged with a "Bad Order Form." Since it might be a little difficult to read in the photo at the left, a close up of the Bad Order Form has been included as the photo on the right.

Click on the thumbnails for larger photos
Tight squeeze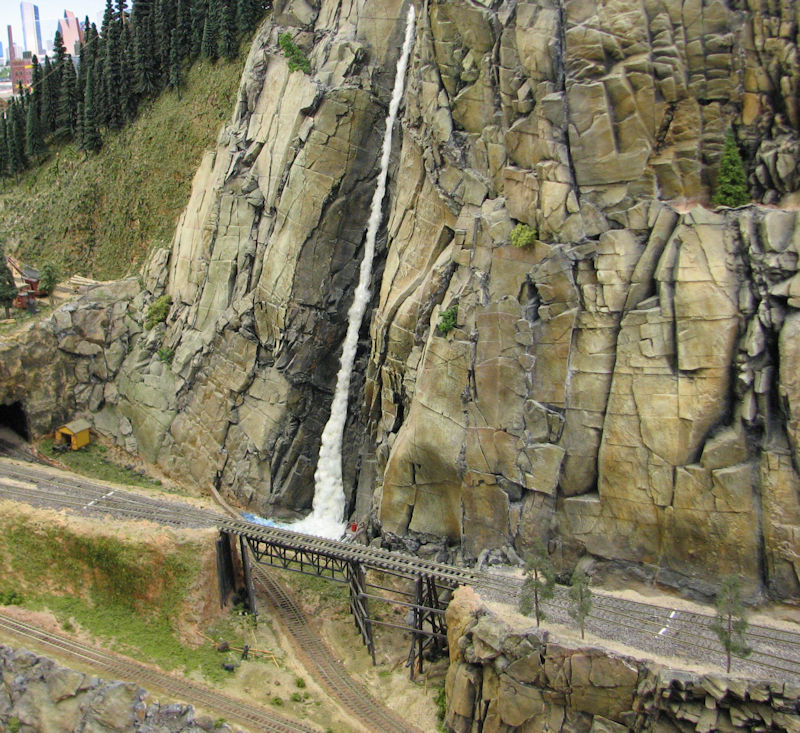 What do you do where you have a bridge that was built with only one track in mind, when you now need two tracks crossing it? Short of replacing the bridge, you interlace the two tracks over the bridge, forming a gauntlet track. That was the situation faced at the bridge shown in this photo. It's not the perfect solution. Obviously you can't have two trains crossing the bridge at the same time. And trains must run at restricted speed as they cross the bridge. But for passenger trains, that's a plus, given the scenic, tall ribbon of a waterfall that they get to admire as they pass by. Not to mention the rugged mountainside that it cascades over.

Click on the thumbnails for larger photos

Now that's smokin'

A scene with a smokestack and a lot of train traffic just doesn't look right without some evidence that the industry is operating, too. What's a modeler to do? At the Champion Mine on APN's layout, Randy came up with a solution, he modeled smoke billowing out of the mine's smokestack. As you can see from this photo, he pulled off a very realistic effect.

Little details like this help make a layout stand out. And at APN we are continually adding those little details. More appear almost every week. Maybe just one thing this week, and something else the next. To us members that get to the clubhouse weekly, we might not always notice that latest addition. Some. like this smoke plume, are more readily apparent then others. Those tiny pumpkins sitting at the loading dock at Meyer Junction are more subtle. I wonder just how long have they been sitting there, anyway?

To visitors that might only make it by once a year for our November Open House, the cumulative changes since the previous year are much more evident. But even if you were here only last month, the amount of details are hard to take in at a single viewing. You are apt to see things when you come back that you missed the last time. So if you haven't been by in a while, pay us a return visit, and see what you've been missing.

Click on the thumbnail for a bigger, wider view of this scene
Shining a light where there is darkness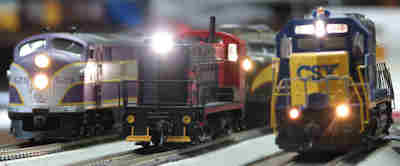 A plus enjoyed in a club environment is being in the company of other modelers. And given all the aspects of model railroading, when you are around a bunch of others that share your hobby, you'll find that each individual has a different skill and experience mix. And we all benefit from this. It's a case of the whole being greater than the sum of the parts. We can learn from one another, and our skills compliment each other, to where together we can turn out a better, more complete product than any one of us could do individually..

We capitalize on this at APN in several ways. One is through having clinics, where a member willingly shares his experience with others. Chip is a member who is fascinated by the application of light emitting diodes (LED) in model railroading, and in particular the use of them in our model locomotives. This thumbnail shows some of Chip's handiwork, 4 of the various locos that Chip has replaced the factory installed incandescent bulbs with LEDs. Those ditch lights on the GEEP to the right are add-ons, and in a clinic Chip showed other members how he accomplished installing them along with all the other LEDs in the photo. But not until he shared with us the different types of "white" light available from different LEDs, how to wire LEDs, programming DCC decoders to control them, and the advantages LEDs offer over the factory bulbs..

You want to learn? Come join us at APN!!

Click on the thumbnail for a photo of Chip at the clinic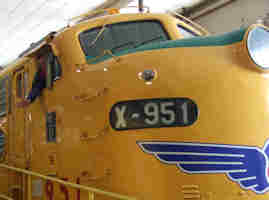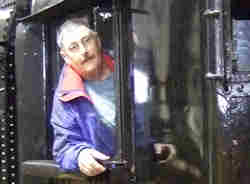 A pair of photos this time, submitted by our APN member who at the time of this posting had an engineering position with the Union Pacific. Randy and a friend made a trip to Wyoming, and at the UP Facilities in Cheyenne, Randy flashed his UP Employee badge to get access to the shops, and as a bonus he also got to climb aboard and sit in the engineer's seat of both 844 and 951. Randy reported that no. 844, the last steam engine built for the UP, was still hot from it's trip back from North Platt only 2 days before. Wow, if only he could have been in North Platt and gotten to ride in that seat on the loco's return to Cheyenne!

Click on each thumbnail for a larger photo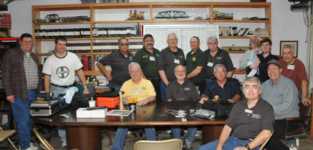 We have regular operating session on our Railroad at APN, and we also open our doors to guest operators. For our first operating session in 2009 we welcomed 7 members of the Midsouth Railroad Club. They made the trek from their homes in and around Baton Rouge and spent an enjoyable afternoon playing trains with us on our layout.

It was fun, and in addition to running trains we were able to swap ideas with each other, to take advantage of each other's expertise and experience, to take back to our respective layouts and use the ideas to improve them.

We were also invited by Midsouth to go over to Baton Rouge for an operating session on their layout. Road Trip! Let's pick a date and make the plans to attend!

Click on the photo for a gallery of photos from their visit with APN.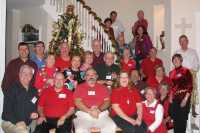 Here are most of the attendees at the 2008 version of the APN Annual Christmas Party. Hosted by Roger and Lilian, this year's recipient of the prestigious President's Award was Johnnie Kreziniski.

Of special note at this event was a celebration within a celebration as we toasted making the final payment to retire our Club's debt several years ahead of schedule. So now we are not only one of the few model railroad clubs in the country that owns both its clubhouse and the land it sits on, we now own it free and clear.

Click on the thumbnail photo to open up a photo gallery of more pictures from our celebration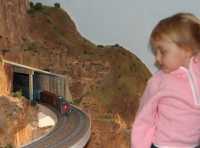 Annual fall Open House: November is National Model Railroad Month in the USA and to foster interest in the hobby it is a tradition around the country for layout owners to open their doors for tours to let the public come see a little about what our hobby is about, and hopefully to cause a few people to get the bug and join our ranks.

At APN we opened our doors over a weekend and had a pretty heavy turnout to tour our layout and facilities. Not only did we welcome guests from the general public, we were honored to have family, friends and other area model railroaders take a look at what we've accomplished.

This month's photo shows a member's son holding his 2 year-old daughter up to watch as a train pokes out of a tunnel and onto a tall trestle crossing Ded Hoarce gulch, a signature scene that greets visitors as they walk in the front door of our Clubhouse. Click here for a larger photo.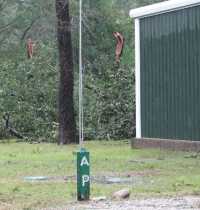 Saturday, September 13, 2008. Early morning. Hurricane Ike blew into Galveston Island, up into Texas, the eye crossing just to the east of Conroe and APN's Clubhouse. Its wind speeds dropped from Category 2 to that of a Category 1 storm just about the time it neared closest to us, but that was enough to topple several of our large trees.

But the good Lord was kind to us, and our Clubhouse, as although they came close, none of the falling trees hit the building. As miraculously, none of them hit our power lines, either. But although our service lines are intact, we are without electricity, as is the entire city of Conroe, and 98% of the Texas customers of our electrical energy supplier, Entergy.

So we will have to wait until power is restored before we get to run any trains. To pass our time until then, we need to get in our gloves and coveralls and other protective gear, and get out our chainsaws and chop up and clear out all the debris.

Click here or on the thumbnail for a gallery of more Ike photos.

We wish everyone else in Ike's path would have fared as well. There are many, many individuals that suffered severe damage, even total loss of their homes and other property. Tragically, some lost their lives as well. They have our condolences, may God be with them.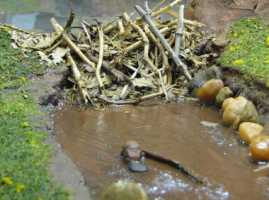 Look closely and you'll see one of Mother Nature's creatures doing some scenicing of his own. It's a busy beaver swimming up the freshly dammed drainage ditch with another small tree in tow, to use to add to the already formidable structure.

The APN section crew will have to monitor this construction to see just how high the dam becomes. They won't interfere unless the water level rises too close to the sub-roadbed of the right-of-way. If it does, they'll have to resort to a few well placed sticks of dynamite to undo in a few minutes what the beavers took months to build. It my be harsh, but if they let that water level get high enough to soak the embankment, it will be at risk to giving way when a through freight train pounds the iron as it roars through. Click on the thumbnail for a larger, full view of this scene.

A very longstanding tradition at APN is to celebrate our birthday with a party. It is the one time of the year we go out of our way to invite all the families of the members together to enjoy each others' company, to eat a bit (for some of us, a bit too much!) and to relax.

Spouses, children, and even grandchildren are present at these gatherings, held every July, where we grill up some burgers, dogs and brats, and everyone brings a dessert or side dish. This year we took this group photo, and if you look you'll see a lot of happy faces, for this, our Happy Birthday.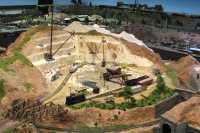 Taking advantage of the contents of a mountain, this quarry is a busy place, not making a mountain out of a molehill, but rather, slowly reducing a mountain to rubble.
The Mount Willie Pink Granite & Aggregates quarry dominates the end of a peninsula over our nested helixes and provides an endless source of loads for flatcars, gondolas and open hoppers. In addition to supplying huge blocks of stone, the quarry is also a source for ballast to maintain the APN track right-of-way.
Although it is not yet complete, this is still an impressive and unique scene on the layout that has an abundance of details. The frail looking guy derrick that towers over the site may not look like it could lift the massive blocks of stone the quarry is capable of producing, but looks are deceiving, as it is just as capable as its smaller stiff-leg derrick cousin. Click here or on the thumbnail to get a full size view.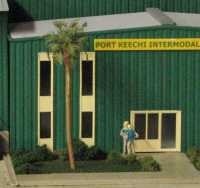 May. 2008. This warehouse is integral to the container cargo traffic at Port Keechi. Those thousands of containers offloaded from all those ships have to go somewhere. Not to mention the paperwork to keep up with it all. Being railroad men we'd prefer to have it all shipped out of the Port by train, but alas, in the real world there are some cargos and some shippers that are just more compatible with truck traffic.
This very tidy scene is the work of Chip, who has real world experience in the way intermodal traffic is handled. Of course that knowledge alone does not a great model make. It also takes some artistic and modeling talent.
Click on this picture for more on this scene and you can see for yourself that Chip is not lacking on those fronts, either. From the convincing palm trees, the containers stacked about, and the cargo inside the warehouse door being handled by a fork lift, the scene has a great deal of realism that enhances the spot it occupies on the APN layout.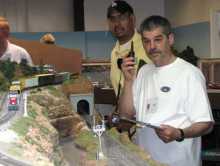 April 24-26, 2008. ProRail. 88 diehard model railroaders heavily into operations, from all over North America, converge on Houston to operate 3 days on 22 different area layouts. One of these was ours. It has come and gone. It was intense.

When we were asked to be a part of ProRail in April 2007 we were relatively novice at operations, having had our first official operating session only a few months before in February 2007. Could we do it? We weren't sure. We had a lot to do and not a lot of time.

To prepare for this event we initiated regular monthly operating sessions. In addition to getting further up on the learning curve with the switch list program RailOp, and learning how to set up an interesting, realistic and challenging schedule of trains that would satisfy these "pros," we had to get a fleet of locomotives and rolling stock up to a higher standard to make for a reliable event. We also wanted the layout to stand out. We challenged ourselves to get more scenery and signaling in place in time for the event.

Did we succeed? Click on the photo and go through the photos of the ProRailers that operated on our layout. From the looks on their faces, I'd say we did.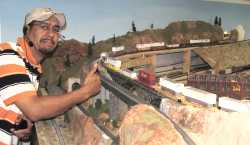 At an operating Sessions this month we incorporated one of the longest trains to date. Although not that long by prototypical standards, a train this long would overwhelm all but the largest home layouts. And although there is plenty of room for it to stretch out on the APN road, during an op session a train this long is a special challenge for the Dispatcher who has to arrange for meets with trains coming from the opposing direction, a feat made more difficult when this train won't fit on every one of our sidings, making it necessary to do a saw-by. Good thing we don't run multiple trains that are this length at the same time, requiring double-saw-by meets. But who knows, maybe it won't be long before we do, increasing the challenge to our engineers!

When running this train, Roger also discovered that a helper was a necessity over some of the 2% grades. Adding an engine to the rear not only made the train better for rail fanning, it also resulted in an extra bonus - with locomotives at both ends of the train, making set-outs and pick-ups were easier to do. Although we probably could not do this if our layout had DC control, DCC makes it easy. And with an NCE dog bone throttle it is a breeze to break an engine out of the consist, use this engine to make the train movements, reassemble the train and put the engine back in the consist. Click on the thumbnail to see a series of photos taken as this train snaked it's way around our layout.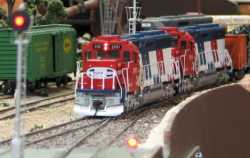 February 2009. Hooray for the Red, White and Blue! President's Day is held this month, and rather than a sale at the mall, at APN we'd rather celebrate it in a railroad theme way. Like running this pair of Santa Fe EMD SD45-2 units painted in a bicentennial paint scheme, shown heading up this coal drag coming around the bend near Valley Junction on APN's layout. During an operating session coal is an important revenue generating commodity, and there will be several trains scheduled to make the haul over the road from the mine to the power plant, and to make the return trip back to the mine with the empties to pick up another load.

Although the prototype for lead unit 7601 has been repainted at least once, renumbered several times and has been converted to a B-unit, She along with her sister unit 7500 live on at APN as they were in their glory days in their splendid patriotic red, white and blue paint scheme. They are a sight to behold and seeing them pass by makes you want to stand a little more erect and give them some respect. They are not Old Glory, but they are a very striking reminder of our United States Star-Spangled Banner, and the pride we should all have for this great country of ours. And they are also trains! All the more reason for us to take stop and take notice, and admire them as they pass by. It is enough to raise goose bumps! Click on the thumbnail for a larger photo.
January 2008.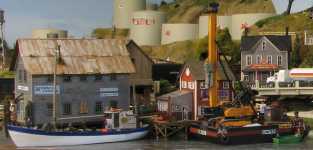 As this picture shows, there are a lot of scenery elements packed into a small space at the waterfront. Although it is still taking shape, and the water itself needs to be put in, it will still take your eye a long time to take in all the details in this area of our layout. Barry is the creative energy behind the "scenes", so to speak, that put all this together into a very nice looking package. But don't be surprised when you come to visit APN if the scenes are different. Barry won't hesitate to change things around to make the scene even better. But even if he doesn't, and you've seen it before, come by and look at it again. There is so much there, you'll probably find some new detail you missed on your first visit. Click on the thumbnail to view a page of additional pictures from the water's edge.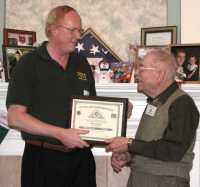 Shown in this thumbnail is member Moe January receiving the prestigious 2007 President's Award during the awards portion of APN's annual 2007 Christmas Party. Along with our annual Birthday party held in July, the Christmas Party is an All Points North tradition, as is the presentation of this Award to the deserving member chosen by our Club's President for his contribution to APN during the current year. In addition to receiving a plaque to take home, a second plaque is hung in our Clubhouse, to further recognize the recipient. This year, in addition to the President's Award, John chose to create other categories of awards, to recognize other members for their efforts. And whether they received an award or not, all attending members and their spouses had the opportunity to partake of way more food and drink than they really needed - even before dessert was served! Click on the thumbnail to view a page of additional pictures from the Christmas Party.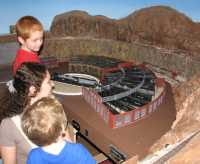 November is National Model Railroading Month, and as a part of this event it has been a tradition around the country to invite the general public to view layouts and allow them a glimpse of what we do in our hobby. In the Houston Area we have to tip our hat to the SanJac Model Railroad Club for coordinating an annual tour of many of the layouts the region has to offer. So many that the tour actually starts in late October and spills into early December - just to be able to fit all the layouts in. As it always does, APN opened its doors, and we were rewarded by a turnout of about 100 visitors over the 2 day weekend event. This picture shows a few of the younger visitors, admiring the stable of steam power posing in the roundhouse under construction on our layout. Note the modern diesel consist sweeping around the curve behind the roundhouse. We ran a variety of locomotive types and vintages to appeal to a large audience. We even had a separate layout set up for the smaller engineers to operate a Thomas the Tank train. Click on the photo for a larger image (51k)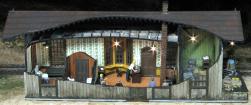 Another new scene going in on APN's layout is this station for the little town of Neath. Although small in size, the town's Mayor, Johnnie Krezinski has packed in a lot of details into Neath. This is evident in the super-detailing done to the station inside and out, from the luggage and other clutter standing on the end platform, the calendar on the wall, all the way down to the fresh roll of toilet paper in the bathroom. To show off the interior details, Johnnie did some cut-away magic, which allows visitors to peer inside to view the details in the station, including the rafters in the attic, and the bustle of activity in the station as patrons await the arrival of the next passenger train. With all the details, it is not yet complete, as Johnnie has more items planned for inclusion inside the station. Come visit us at our November open house and see the progress Johnnie makes. Click on the photo for a larger image (225k)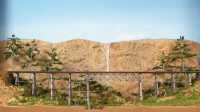 This recently completed scene is a handsome addition to APN's narrow gauge line and the best scenery work yet by our own Moe January (inspiring John to suggest the name "January Falls"). In addition to the spindly scratch-built wood trestle, and the signature waterfall cascading down the rugged rock cliff, other details in this tranquil scene

include a paddling of ducks enjoying the creek in the foreground, a couple of nearby moose, and a family herd of grazing deer. If you look around, you'll even spot an eagle perched in one of the hand-made trees. These pictures don't do justice to all the details available in the scene, so come by the clubhouse and see them firsthand. The only thing missing from this scene is a diminutive but sturdy narrow gauge train being led gingerly across the trestle behind a vintage mud hen or shay steam locomotive. But we'll soon rectify that. Who knows, maybe one will make an appearance while you are present, and you'll not only be able to take in the sights, but you'll also get to hear the whistle blow! Click on any of the photos for a larger view (72-114k)
Smoke and Mirrors (or, "Where oh where has my little train gone")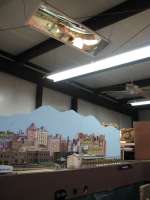 July 2007. One of the "features" of the APN track plan is a section of mainline that starts on one side of a sky-board scenic divider, enters and climbs up a helix, and then comes out of the helix on the other side of that same sky-board. Unless an engineer walks around the peninsula containing the helix, when the train emerges on the other side of the sky-board it is out of view. If our steam locomotives
made smoke, you'd be able to tell where they were by their plume. Sound helps, but a few members wanted more. A solution that was implemented was to put a "butt-crack" in the sky: a gap in the sky-board about a foot wide, that gives a glimpse of the passing train from the other side. What we never figured out how to do effectively was to disguise this improbable gap, which is in the middle of a city industrial scene in the making. What we've come up with as an alternative to the gap is a mirror strategically placed over the layout. Now an engineer can look up at the mirror and see his whole train at once, instead of just a glimpse through a gap. And now we can say, "butt-crack be gone!" and not have to explain a nearby rock formation that looms in the middle of (and towers over) a city skyline that has the appearance of being many city blocks deep. Both the juxtaposition of the two incongruent scenes and their difference in apparent depth perspective destroy the illusion of reality. These two pictures show the mirror and the gap, prior to being closed. Click on either picture for a larger view (Picture sizes = 40k size each).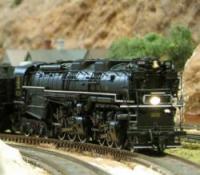 June 2007. Bob Miller's C&O class H-8 Allegheny cruises past Meyer Junction with a string of coal cars in tow. This magnificent 2-6-6-6 monster was one of the most powerful steam locomotives to roam the rails in North America, capable of 7500 horsepower (vs. the Big Boy's 6200 HP). It is also the heaviest reciprocating steam locomotive (when excluding the tender) built in North America. APN is adding a steam facility that will include a turntable to be able to handle this and other large locomotives to get them turned around, and when needed, into the roundhouse (also under construction) for servicing. Click here for the image (size=48K)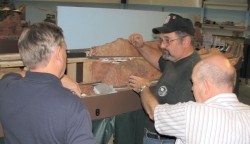 May 2007. Mike, Charlie and Bob discussing various options on how to install a pair of bridges. The area at Oakley is one of the first vistas that a visitor sees upon entering the layout room, so they want to talk it out to try to get the best results in realistically merging the 2 bridges that will go at this location with the surrounding scenery. They have to consider not just how the results will look, but how to cut the mainline and install the bridges with minimum downtime to the layout, and at the same time, end up with rock-solid and reliable track work. No mean feat. Click here for the image (size=244k)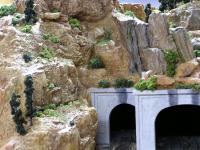 April 2007. This close-up photo shows a recently completed scene by Johnnie Krezinski of a pair of tunnel portals bored under a dramatic rock outcrop. Working from photos his wife found of rock formations in Arizona, Johnnie worked and reworked this scene until he achieved the texture and color variation he wanted. Although this photo doesn't show it, even the ballast inside the tunnel was sceniced to match the prototype. Johnnie is relatively new to model railroading, but his work shows that with practice, perseverance and by reading up on techniques, even a beginner can gain proficiency in the various aspects of model railroading. Click here for the image (size=102k). Photo by Larry Stella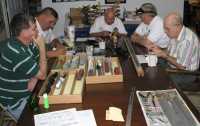 March 2007. David, Dennis, Rich, Errol and Bob form an assembly line for the inspection of rolling stock. We made a recent purchase of 130+ freight cars and made this concerted effort to make sure they met our standards before turning them loose on the layout. Click here for the image (size=47k)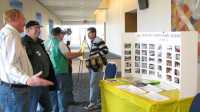 John and Charlie were among the half-dozen or so members that manned our booth at the Annual SanJac Train Show in Stafford, February 10, 2007. We had a good turnout of visitors to the booth, so it was well worth our time. One surprise, though, is that SanJac was passing out a flyer telling the more than 1300 adults that attended the show that APN was having an open house that evening and the next day! So a few phone calls were made and we got other members to "man the fort" and accepted the visitors we had come by the clubhouse both days. Next year we'll be prepared! Click here for the image (size=38k)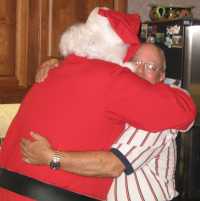 Rich and Barb graciously offered their home to host the 2006 version of APN's annual Christmas Party. In addition to over 30 guests, there was also a surprise visit from Santa! VP Mike won the President's Award, and everyone was treated to gifts from Santa, and abundant quantities of food and drink, including eggnog (Borden's, of course). Barb offered that since Rich was the one who decorated the house for the holiday, and not her, that she wants to host more parties. All's we can say, is February too soon?!
Click here for the collage (size=676k)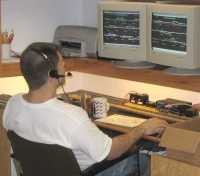 November 2007. Scott draws the Dispatcher's job as seen in this photo. During the Open House we broke out the radios and held an impromptu operating session. The layout can be run under ABS or CTC control. During the latter, the Dispatcher has control of all mainline turnouts, unless he agrees to temporarily grant local control to a crew. It won't be long before Operating Sessions are a regularly scheduled event on our railroad.
Click here for the image (41k)



After the October 2007 Business Meeting, Mike, Charlie, along with help from his grandson, assemble APN's newly acquired "Topside Creeper." This piece of equipment will support APN members on its height adjustable padded platform as they work over and above the layout, allowing comfortable access to otherwise hard to reach portions of the back of the bench work.
Click here for the image (41k)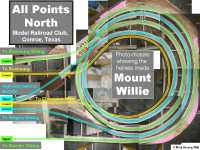 September 2007. This photo mosaic shows the helix arrangement inside Mount Willie, named after a former member who was instrumental in both designing and laying out the mainline track plan of our layout. One of the more complex pieces of that track work to construct were these nested helixes. Not a part of the helixes, but underneath them is the spur track to the mine. With 3 sets of track passing through this complex, sometimes an operator has to scratch his head to remember where the train that just went into the mountain will reappear. This photo may help de-mystify just what is going on inside there.
Click here for the image (109k)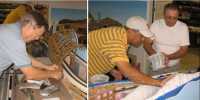 August 2007. The scenery committee at work. Mike, Richard, and our other scenery committee member Mike are busy making mountains. Mike is creating the basic form of the mountain by stapling and hot-gluing together a lattice of cardboard strips. This is covered with a layer of paper towels soaked in Hydrocal. Richard and Mike are smoothing on the 3rd layer - Sculptamold. Later plaster rock castings will be added, then stains, paints, dirt and ground cover. Sound like fun? Come and join us! Openings are available for Club membership and membership on the Scenery Committee.
Click here for the image (52kb)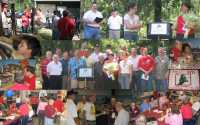 25th Birthday Party. This month's picture is a little bigger than most months, but it also commemorates a big event! On July 15th, 2006 we celebrated our 25th Birthday as a club and the 5th anniversary of our Clubhouse dedication. We also re-dedicated the Clubhouse in memory of Steve Hashagen who passed away earlier in the year. Steve was the guiding force that made our ownership of the Clubhouse a reality.
Click here for the montage (size=207k)

Also find here a copy of a Testimonial made to Steve at the event, and the Program. Click here for the Testimonial (43kb) Click here for the Program (61kb)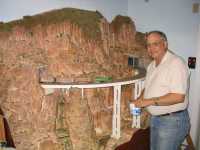 June 2007. Artist Brian Chapman shows his work. APN Alumni and former resident artist Brian Chapman at work on his masterpiece, Ded Hoarse Gulch on July, 9 2005. Ded Hoarse Gulch is the striking scene that visitors see as they first enter the APN Clubhouse. Brian was meticulous in completing this vista, spending months of Saturdays working on it. Even though at the end of every Saturday members could look at his work and consider it beautiful and complete, Brian would return the following Saturday and put in another full day, adding to it, and making it look even better (or in his words, "making a mess with plaster and paint"). Brian is now a member of the Amarillo Railroad Museum. Click here for the image (52k)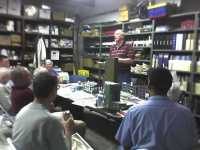 Structure Kit-Bash Clinic. As members look on, John conducts a clinic on kit-bashing structures at the May, 20, 2006, meeting. Duane commented that if John were to find the "perfect" model kit, John would not be able to resist the temptation and build it without changing something on it. The proliferation of warehouses in the Port area stands as a testament to John's productivity.
Click here for the image (32k)



Ops Session at Don Bozman's. APN members look on as Don explains how to make setouts on both trailing point and facing point sidings. Don and his wife graciously invited us into their home April 22, 2006 for an operation session on Don's Great Great Northern layout. APN members attending where John C, Richard Cl, Rich Cu, Steve D, Jim D, Kevin G, Mark H, Johnnie K, Mike Kr, Charlie R, and Jerry W.
Click here for the image (42k)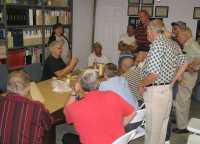 Retaining Wall Clinic. Greg & Jane Butler, members of the N.U.T.S. Club, presenting a clinic at our April Meeting. APN members watch attentively as Greg demonstrates 5 different techniques for building retaining walls. Afterwards the Butlers invited APN members to their home to view the retaining walls adorning their layout.
Click here for the image (48k)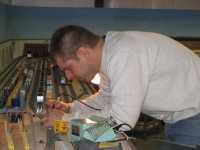 Electrical Committee handiwork. Scott, our Electrical Committee Chairman, performing maintenance on the 3-way switch at the west end of the ladder into Conroe Yard. In addition to the wiring needed for new construction on the layout, there is always plenty to do taking care of electrical work needed after modifications are made to existing track, or just for repairs needed due to normal wear and tear on the layout.
Click here for the image (36k)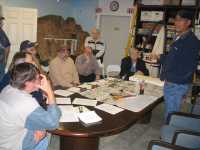 Weathering Clinic. Richard had APN members' rapt attention as he presented a weathering clinic in the clubhouse meeting room on February 18, 2006. The tips shown included using chalks, ink washes, airbrush and aerosol can techniques.
Click here for the image (48k)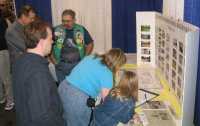 APN Booth at WGH Train Show. Charlie (in the green vest) with prospective members at the booth APN hosted at the World's Greatest Hobby Show January 7-8, 2006 at George R. Brown Convention Center. Other members that assisted with the booth included Errol, Duane, John C and Mark H. We gave out several hundred flyers.
Click here for the image (46k)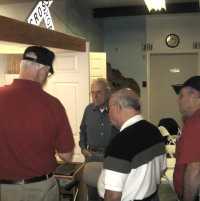 Dispatcher's Desk. Duane standing at our Dispatcher's Desk demonstrating the DCC programming track and the software DecoderPro to new members Moe, Rich and Mike after the January 2006 Meeting. DecoderPro allows APN members to program their DCC equipped locomotives via a graphical interface on the club's PC.
Click here for the image (34k)

Created on 01/25/2007
Updated 04/22/2022